Hongtao Yu named the new Provost of Morgan State University
After two months of searching internally for a new provost, President Wilson selected Hongtao Yu for the position.
President David Wilson appointed Hongtao Yu as the next provost and senior vice president of Academic Affairs of Morgan State University after two months of an internal candidate search.
The former dean of the School of Computer, Mathematical and Natural Sciences will begin his new role on Sept. 1.
"I am truly humbled by this appointment and eager to serve Morgan in this new expanded capacity with a continued commitment to enriching and expanding the academic experiences for all of Morgan students," Yu said in a university press release.
Yu came to Morgan in 2016 as dean of the School of Computer, Mathematical and Natural Sciences and left an impact on the program within his five years of leadership.
During his time as dean, the school introduced several new degree programs such as Coastal Science and Policy, Cloud Computing and Advanced Computing.
In addition to bettering his academic program, Yu also applied new policies and guidelines to improve efficiencies across the school such as developing a faculty annual evaluation instrument, instituting a promotion and tenure guideline and implementing a faculty workload policy.
Before his tenure began at Morgan, Yu served as a faculty member and chair of the Department of Chemistry and Biochemistry in the College of Science, Engineering and Technology at Jackson State University.
Outside of his career, Yu earned three academic degrees; his baccalaureate degree from the Department of Chemistry, University of Science and Technology of China, his master's degree from the Institute of Chemistry, Chinese Academy of Sciences and his doctorate from the Institute for Organic and Biochemistry, Technical University of Munich, Germany.
Between the final four candidates left in the internal search for the next provost, Wilson selected Yu with hopes they will work together to elevate Morgan.
"Without equivocation, Dr. Hongtao Yu has the ideal experience, leadership, gravitas and academic achievement needed to fulfill the role of provost." President Wilson said in a university press release.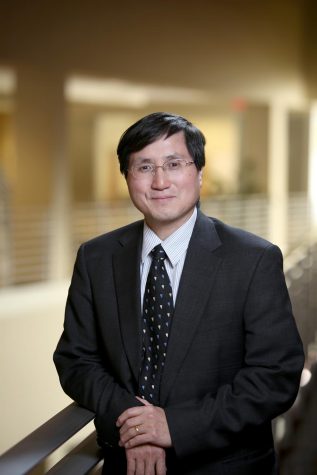 "His vision aligns with the goals in our strategic plan and is compatible with our North Star aspiration—which is to be a world-class, top-shelf urban research university strongly rooted in the HBCU tradition of excellence," Wilson added. "Morgan is rapidly ascending, and Dr. Yu can work with our faculty and deans to expedite our transformation."
In his new position, Yu will oversee the university's academic goals, administer direct supervision on the academic units, support services and operation, coordinate with the university's Division of Enrollment Management and Student Success and more.