The MSUSpokesman 2021-2022 student government voter guide
Learn about a few of the 2021-2022 student government candidates' initiatives, where they stand on President David Wilson's campus reopening plan and what they would like to bring to Morgan
As the Morgan community enters student government election season, student leaders were forced to spend another year of virtual campaigning due to the coronavirus pandemic. However, candidates running for Student Government Association (SGA) president and vice president, Mister Morgan and Miss Morgan have acclimated to the new era of campaigning via social media. 
The MSUSpokesman has created a voter's guide to help you learn more about the candidates before casting your ballots beginning April 6 at 10 p.m. through April 9 at 9 a.m.
SGA president and vice president 
The SGA president holds all executive powers of the student government, working closely with the vice president and the executive board. The vice president serves as the co-chair of the executive branch and the president.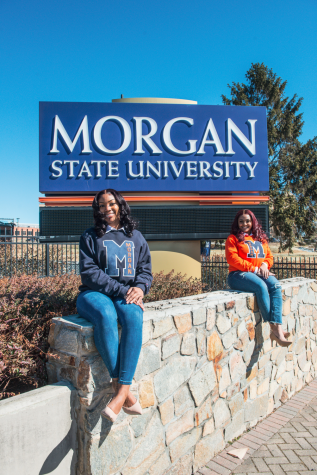 After serving as class president and vice president for the last three years, junior sociology major Jamera Forbes and junior psychology major Dai'Shona Jones are running unopposed to become the next president and vice president for the entire Morgan student body. The duo stands on five initiatives:
The Bridge- focuses on bridging the gap between Morgan State University by implementing projects to connect with the community. 

The Experiences- focuses on creating an exciting and enjoyable experience for all students on and off-campus.

The Priority – focuses on improving and bringing light to the diverse physical well-being and needs of students.

The Protection – focuses on enhancing campus safety to ensure all students feel safe and protected.

The Legacy- will leave an incentive for the enhancement of each class and the university. 
In terms of President Wilson's plan to fully reopen campus for the fall semester, Forbes and Jones agree with Wilson and believe in his efforts to keep students safe through the pandemic.
"I stand alongside President Wilson's plan," Forbes said. "I believe he has the interest in allowing students to reconnect with traditional college experiences as well as having major precautionary concerns with all student and staff safety." 
"I stand fully alongside President Wilson with the reopening of the campus," Jones said. "I believe that he will ensure that all students will be kept safe while also ensuring that we, the student body, can fully get the Morgan State experience. He has been working diligently to make sure that everyone on campus is maintaining the COVID-19 guidelines."
34th Mister Morgan State University
Mister Morgan State University serves as the official host of the Morgan while coordinating with Miss Morgan State University to conduct community service projects within the community.
 Leshoun Taylor, junior political science major, is running unopposed for another position in the Royal Court after serving as the 2019-2020 Mister Sophomore and 2020-2021 Mister Junior. However, Taylor has not publicly campaigned on social media and did not respond to The MSUSpokesman.
77th Miss Morgan State University
 As the official hostess of the university, the Miss Morgan State University holds the responsibility of hosting community service projects with Mister Morgan State University on behalf of the student body and the Baltimore community.
 Candidate: Aliyah Lee, a junior social work major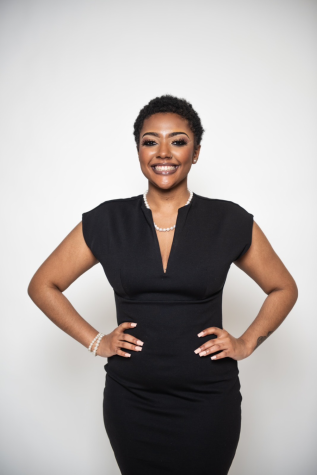 As a candidate for Miss Morgan, Lee said she wants to prioritize keeping the student body comfortable and satisfied. If elected, the junior social work major said her first act as Miss Morgan would be to initiate a nonprofit organization onto Morgan's campus.
 "I want to bring a nonprofit organization to our campus named UPCORE, which will be a community service that everyone is able to participate in that helps the community around us by rebuilding and renovating homeless shelters in Baltimore, MD," Lee said. 
Lee said connecting students with the Baltimore community will strengthen the student body.
But in regards to Wilson's reopening plan, Lee said she doesn't support the plan because of the severity of COVID-19.
"I support his decision to an extent because no matter how much students want to come back on campus, we still have to be cautious that more than a hundred thousand people lost their lives due to Covid-19," Lee said. "Yes, I am grateful to come back on campus, but I hope President Wilson's plan will be effective and will encourage students to stay safe in our learning environment."
 Candidate: Taylor Odoms, a junior biology major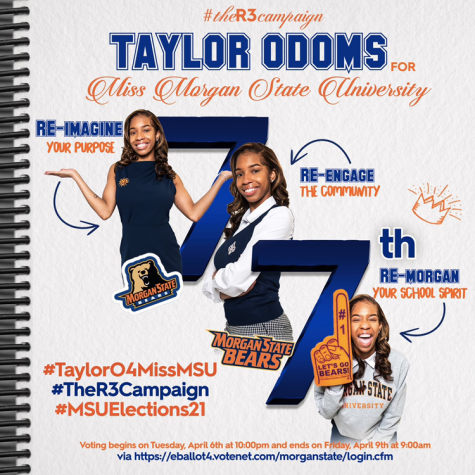 Odoms plans to run for her third position in Morgan's Royal Court after serving as the 2019-2020 Miss Sophomore and 2020-2021 Miss Junior. Although her experience in royal court positions set her aside from her candidates, she believes her dedication to the university is what makes her the ideal candidate.
"Beyond my experience in the Royal Court as Miss Sophomore and Miss Junior, anything that I say I will do gets done. I am an all-or-nothing type of person,"  Odoms said. "My commitment to the university, the students, and the future of Morgan State University makes me an ideal candidate for Miss Morgan State University."
 If elected as the next Miss Morgan, Odoms said her main focus will be establishing a community service system, possibly an app or website, that would help students track their community service hours across campus. She also said the recent monetary donations should be invested into on-campus developments.
"I think that the recent funds donated from Mackenzie Scott, Calvin Tyler, and the settlement of Maryland's HBCU lawsuit bill should go towards the infrastructure and improvement of the campus, Odoms said. "Morgan State is already doing a great job with the new buildings that we have and are being built, so I think we should keep going down that route."
 Candidate: De'Janee Ross, a junior multimedia major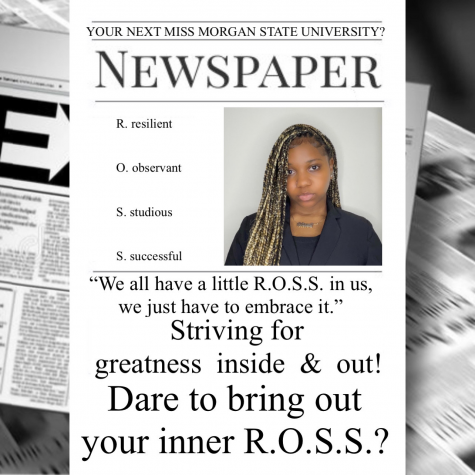 De'Janee Ross, junior multimedia major, stands on bringing out her inner R.O.S.S. (resilient, observant, studious, successful) for her Miss Morgan campaign run.
"I think I mostly want to leave a legacy of going for everything you want. A year ago, I would have never run for Miss Morgan let alone think about it," Ross said. "I used to always allow myself to get in my own head and doubt my abilities as an individual."
 When it comes to the recent donation funds being distributed at the university, Ross said funding should go towards university housing and student safety on campus.
"I think our funding should go mainly to housing and safety," Ross said. "I feel more upperclassmen should have the option of living on campus and this could be achieved if more dorms were made. I also feel like the current dorms should all be renovated and up to date in style."