A local church's food security program was launched after Freddie Gray's death. Now it's aiming to solve food insecurities caused by the pandemic.
Morgan State Professor Harold Morales reallocated $150,000 to local organizations fighting to restore Baltimore's minority communities.
Morgan alum Rev. Herber Brown III, who is a pastor at Pleasant Hope Baptist Church in Baltimore, founded Baltimore's Black Church Food Security Network (BCFSN) in 2015 after making several hospital visits to pray over his members who were hospitalized for food-related health issues, according to Religious Studies Professor Harold Morales.
Morales added that seeing the uprisings in response to the death of Baltimore-native Freddie Gray—who suffered fatal spinal cord injuries in the back of a cop car after being arrested by Baltimore police—inspired the organization's creation.
The BCFSN is a nonprofit organization that utilizes an asset-based approach in organizing and linking the vast resources of historically African American congregations in rural and urban communities to advance food and land sovereignty, according to the BCFSN's website.
"When the uprising began that became solidified into an actual network and organization and they started developing these food systems," Morales said.
Six years later, it's found a new role in the midst of the coronavirus pandemic.
In the spring of last year, grocery store shelves lay barren as people frantically bought food faster than stores could restock.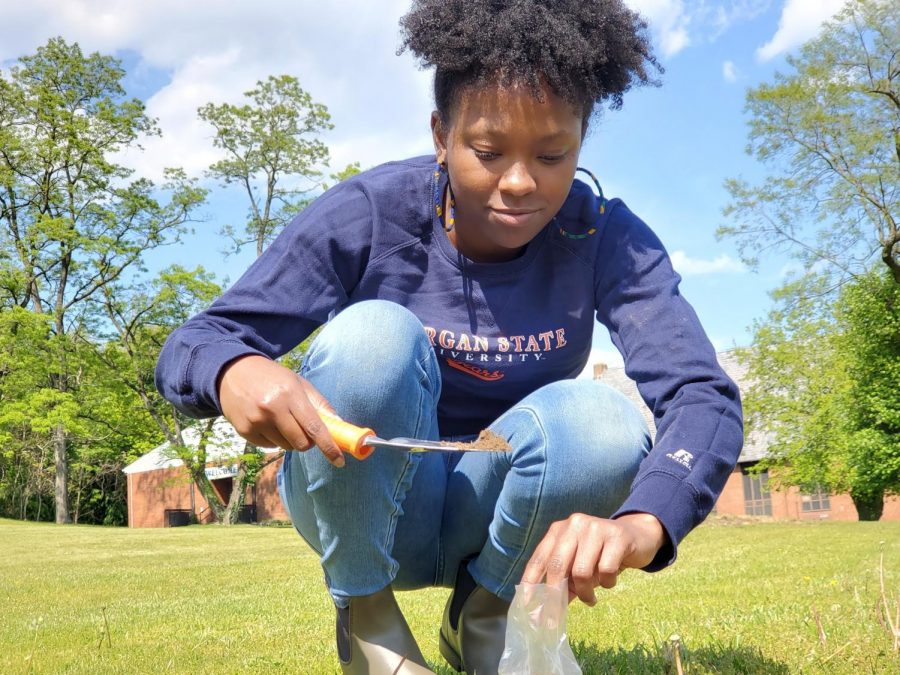 "People were scared, they were buying food more than they actually needed," said Sha'Von Terrell, a 2019 graduate of Morgan and now deputy director of the BCFSN. "So grocery store shelves were empty and that caused a lot of people to be fearful of the future because they didn't know the impact of the pandemic on our food system."
Two months later, the BCFSN responded with a gardening training program structured to teach the community how to garden and regrow commonly purchased grocery store items. Then the church took it one step further and created a seed bank and mailed seeds across the country to people who were starting their own gardens.
Last April, Morales and the Center for the Study of Religion and the City (CSRC) were gearing up for their most anticipated event of the year, "Five Years after the Baltimore Uprising," a conference intended to commemorate Baltimore-native Freddie Gray whose death sparked mass protests after he was arrested by Baltimore police.
When Morales, the founder and director of the CSRC had to cancel the event due to COVID-19, it left the center stumped on how to continue their work of philanthropy in a city ravished by the virus.
One month later, CSRC's board of directors voted unanimously to shift their funds originally intended for the conference, to help support four organizations with small $3,000 to $5,000 grants. About two weeks later, the 3-year-old, Baltimore-based organization, which sought to foster and support innovative religious studies and theological engagements in Baltimore, was awarded an additional $150,000 by the Henry Luce Foundation to help support COVID-19 relief and restoration work.
BCFSN was one of 17 local organizations awarded money to bring about racial equity during the pandemic.
"One of the reasons why Black and brown communities were being disproportionately impacted by the pandemic itself was because our communities were already in relief mode," Morales said.
The CSRC's public health pivot included donating to Baltimore's Black community specifically to further support organizations that were providing food, housing and other kinds of services. According to Morales, just providing relief without restoration to Baltimore's Black, indigenous and Latinx communities would be putting a bandaid on a situation that was going to continue to exist.
As the U.S. surpasses more than 525,000 deaths, the trend is clear—Black and brown people are dying at an alarming rate to the virus. According to the Centers for Disease Control and Prevention (CDC), Maryland accounts for approximately 8,000 deaths, 44 percent of which are African Americans and members of the Latinx community, who together only make up 39 percent of Maryland's population, according to data available from the COVID Tracking Project. The project states that, in the state of Maryland, Latinx people have contracted the most, but more Black people are dying from it.
On June 19, 2020, the BCFSN issued a call to action to empower people to grow their own food, garden, support Black farmers and practice emergency food storage. 30 churches across the U.S. signed up, including five churches in Baltimore City that committed to starting a community garden or farmer's market, according to Terrell.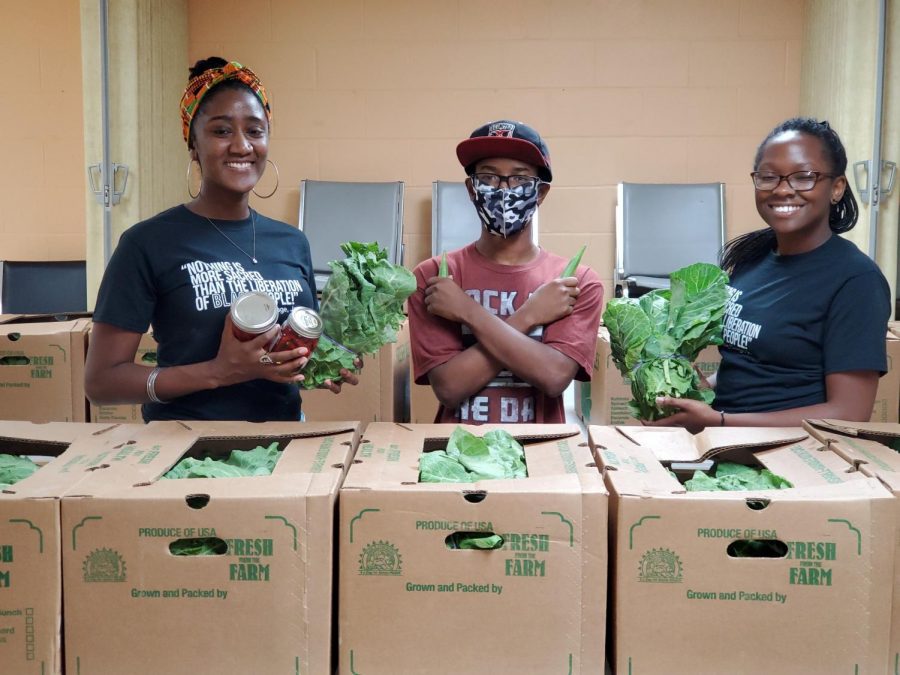 Austen-Monet McClendon, Brian Anderson and Deputy Director Sha'Von Terrell takes inventory for the Black Church Supported Agriculture Distribution. (Courtesy of the Black Food Security Network)"[BCFSN] wanted to provide food for people that needed it right now, but they also wanted to teach people how to farm, how to can, how to grow their own food, how to create their own food systems, how to cook and how to feed themselves with healthy food to avoid diabetes and heart disease," Morales said. "Which is exactly why a lot of our Black and brown communities were being disproportionately impacted. People with underlying health conditions were impacted the most by COVID."
Jonathan VanAntwerpen, the program director for religion and theology at the Henry Luce Foundation said, in the intervening months, Morales and his colleagues have linked with others based in cities and regions throughout the country as part of a networked initiative that has provided direct support for over 130 local groups and religious organizations offering emergency services to vulnerable populations.
"We are grateful for the creative work of Harold Morales and the Center for the Study of Religion and the City at Morgan State," VanAntwerpen said in an email addressed to The Spokesman. "It's hard to believe that it has been almost a year since I first spoke with Professor Morales to explore the possibility of partnering in response to urgent needs introduced by the COVID-19 pandemic."
Terrell said because of the physical restrictions of the pandemic, the BCFSN can't be a community the way they were accustomed to and because a large portion of its community is elderly, safety has been their top priority.
"So, we have to be very selective about how we engage with our community in person to make sure that everyone is staying safe," she said.
Terrell and the BCFSN noticed that churches were supplying their members with food from food pantries last fall.
"We saw that the food being shared in the food bank was highly processed food, sugary food like chips, sodas, carbonated foods and we realized that the food that was being distributed in the food bank wasn't numerous," Terrell said. "We're giving people food but at the same time, it's having adverse effects on their diet. If they don't get COVID, they make get high blood pressure."
So, the BCFSN partnered with Black farmers who had lost their market during the pandemic to buy items from them and resell them to churches. By December 2020, the BCFSN had spent over $20,000 supporting Black farmers, churches and businesses, according to Terrell.
"Our limitation is capacity, we are a small team of four," Terrell said. "We have these big dreams, shoot for the stars we can do everything but then reality sets in and we only have four people to help us do it."
With CSRC's $20,000 grant, which was originally intended to kickstart BCFSN's urban teaching farm, the church has decided to regrant the money to support other churches and revive their gardens for the upcoming growing season.
Junior philosophy major Mofiyinfolu Shotayo worked alongside Morales from April to December as a CSRC 2020 summer research fellow documenting and reflecting on relief and restoration work by the center's community partners, including the BCFSN.
Shotayo, who worked in a group of five, said that through her research, she discovered that Baltimore's religious organizations may have adapted differently to COVID-19, but one thing brought them together.
"The one general thing that kind of brings them together was the newfound love and respect for the community and just being more empathetic and caring about each other," Shotayo said.
This story is a part of "Black Health Matters," a year-long reporting program through The Poynter Institute's College Media Project. The project's objective: to tell health-related stories through the lens of Black college students, while examining possible solutions.