Morgan alumnus Yogananda Pittman named acting chief of the U.S. Capitol Police after historic building breach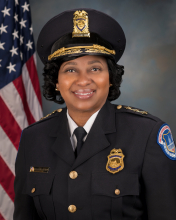 Morgan alumnus Yogananda Pittman will serve as the acting chief of U.S. Capitol Police on Jan. 17, according to a Morgan State University statement.  This week, Capitol Police Chief Steven Sund announced his resignation after hundreds of Trump supporters successfully breached the U.S. Capitol on Wednesday, Jan. 6. Sund's resignation goes into effect on Saturday, Jan. 16.
The violent riot resulted in five deaths, including one U.S. Capitol police officer, 42-year-old Brian D. Sicknick, who was beaten by rioters with a fire extinguisher. He was pronounced dead the following day.
Several government officials and the USCP Labor Committee called for Sund's resignation. After serving as the chief since 2019, Sund announced his resignation,  which goes into effect on Saturday, Jan. 16, one day after the insurrection.
"Make no mistake, what happened on Wednesday was totally unacceptable and left a huge crack in the foundation upon which America has been erected," University President David Wilson wrote in recent letter addressed to the Morgan community. "Morgan condemns these acts on the part of all parties involved in them."
Pittman will be the first woman as well as the first African American to hold the position. The 1999 graduate joined the USPC in April, 2001 and most recently served as the assistant chief of police for protective and intelligence operations. Throughout her career, she has held several ranks including executive officer, deputy chief and bureau commander for the Command and Coordination Bureau.
Members of the Morgan community congratulated Pittman on Twitter.
"Sending love & light to my Morgan State sister as she takes on the tremendous responsibility of leading the U.S. Capitol Police," Morgan alumnus Sylvia K. Alston said.
"We commend this wise decision as it is widely known that Morgan graduates are purposefully prepared to not only Grow the Future but to Lead the World," Wilson said in response to Pittman's new promotion in an email addressed to the Morgan community.
Sund's resignation will be effective on Saturday, Jan. 16 and Pittman is set to take her new position the following day.