Betsy Wade, journalist and pioneer for women's rights dies at 91
The first woman to edit news at The New York Times also inspired journalism programs at Morgan State's School of Global Journalism and Communication.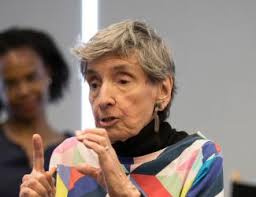 Betsy Wade contacted Jacqueline Jones, assistant dean for programs and chair of the multimedia journalism department at Morgan State, to offer a program that would help bring the, at the time, 1-year-old school into the new digital age.
Wade and Day assembled a team that came to the school and taught the faculty and students many of the newest and latest digital products. The team concentrated on video reporting, editing and blogs and photography.
Six years later, Morgan's School of Global Journalism and Communication has dedicated an entire department to multimedia storytelling.
"My biggest regret is that I was not able to have Betsy and Jim down to the school to see what we have done," Jones said.
Wade, a journalist and pioneer for women's rights and equal rights, died on Dec. 3. She was 91.
She began her career at the New York Herald Tribune and transitioned to the New York Times in 1956. She forged her way through stereotypes that pigeonholed women journalists into writing about fashion and cooking and broke the 105-year tradition of the all-male copy room.
Wade was also the first female elected president of the Newspaper Guild of New York.
In 1974, Wade led a class-action sex discrimination suit against the New York Times for equal treatment and equal pay for women.  The New York Times ultimately resolved the case with a monetary settlement and a plan for affirmative action.
"She was a fierce advocate for equality not only for women but for everyone that was treated unfairly," said Nancy Day, an independent journalist and a member of Journalism and Women's Symposium (JAWS), a support group for female journalists where she knew Wade.
Because of a predominantly male presence in the journalism world, JAWS was founded.
JAWS invited women to talk about their personal lives and work, and Wade was a part of that platform from its inception.
"Betsy worked very hard on welcoming new people to the organization," said Mary Curtis, who worked with her at the New York Times.
From the settlement at the New York Times years earlier, Wade donated money to the JAWS organization to support women journalists.
That donation launched a relationship between Wade and Morgan State, which helped the journalism school expand technologically.
"Betsy was passionate about seeing people of color get their opportunity to be journalists and not just with mainstream media but were in a position to move up the food chain," said Pamela Moreland, Digital Content Editor at Stanford University.