One year after Macy's Thanksgiving Day Parade debut, Magnificent Marching Machine reminisces
Last year, they were making history in the heart of New York City and toasting their achievement over a holiday meal. This year, band members reminisced through computer screens.
Last year, Morgan State University's Magnificent Marching Machine spent their Thanksgiving in New York performing in the 93rd annual Macy's Thanksgiving Day Parade. But this year, the Thanksgiving holiday was vastly different for the marching band, who were spread far and wide due to COVID-19.
Rather than preparing for the biggest performance of their young lives, the 115 band members spent Thanksgiving in their respective homes all over the country, reminiscing about last year's memories.
Melvin Miles, the marching band director, reflected with a few members of the band staff on how "crazy it was" pulling off last year's performance. It was a collective effort that Miles said took an immense amount of energy. From putting the performance together and moving the students to New York to the Magnificent Marching Machine's debut.
The band made history as the first historically Black university from Maryland to perform in the Macy's parade. Like many members of the band, Malcolm Mobley, junior engineering major, described the performance as one of the most unforgettable moments of his life.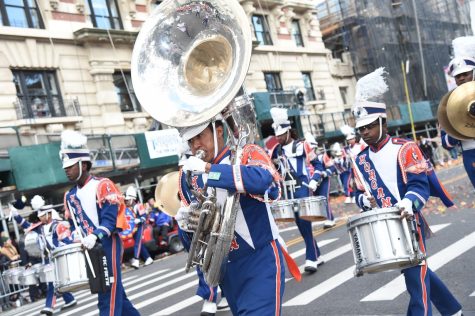 "That's a story I'm going to tell my grandkids," Mobley said. "I've been saying that ever since we found out we were going."
The tuba player remembers the once in a lifetime opportunity like it was yesterday; from the moment he found out they would be in the parade up until the day of the performance. On top of the memorable performance, the members of the band shared Thanksgiving dinner together that night as a big family.
"It was important to us that we had a big family style meal on Thanksgiving Day because so many people were missing Thanksgiving," Miles said.
The coronavirus pandemic and safety guidelines from the Centers for Disease Control and Prevention have limited the chances for the marching band and families nationwide to come together for a big meal on Thanksgiving. Jada Jones, a Foxy dancer for the band explained being away from her relatives and band family has taken away her holiday excitement this year.
"Last Thanksgiving, I was really excited. There was a lot to look forward to," the health education major said. "Even though I wasn't with my family, I still had my mom, my brother, my aunt and then I was with the band people, so I still had some people I knew."
"This year is just going to be my immediate family and I'm still grateful we all get to have thanksgiving, but it's not going to be the same and that's why I haven't been looking forward to it."
Jones was able to spend the holiday with her family this year, but this was a challenge for out-of-state students like Mobley. The San Francisco native didn't travel home with his family for the holiday and had to spend Thanksgiving alone in his apartment near Morgan's campus.
"This is the fourth thanksgiving I've spent away from my family," Mobley said. But even far away, his band members are still looking out for their own. The band fraternity, Kappa Kappa Psi, helped pay for his Thanksgiving dinner that he prepared himself. "They're having these virtual festivities where we'll play Among Us and different games together as a band."
Although the entire band could not physically spend the holiday together, a majority of them spent Thanksgiving remembering where they were just a year ago.
Phillip Taylor, a sophomore information systems major, hosted a small Friendsgiving with a few of his bandmates to reflect on old memories. Taylor, who was a freshman trumpet player at the time, had no idea performing in the Macy's parade was possible.
"I never knew our band was eligible for that," Taylor said. "I've never even seen the Macy's day parade so that was an all-new experience for me."
After performing in both the Macy's parade and a Baltimore Ravens Football game last November, the band felt like they were on top of the world. However, this feeling was short lived; the coronavirus pandemic took away the chance for the band to rehearse and prepare for performances for eight months.
They adjusted to the remote life and conducted virtual practices through Zoom calls and Smart Music, an app that allows them to play along with each other. To keep his musical talents in touch, Mobley has practiced playing with several different instruments during the time away from band rehearsals.
"I don't play the trombone," Mobley said, "but I have one."
"That's actually how I've been keeping up over the summer with having an instrument in my hand and continuing to play so my chops and muscles that I use in my lips don't lose that muscle memory."
Although this year has been challenging for many, the band has high hopes they will be able to come together again and pick up where they left off.
"Hopefully everything will be back on course this summer and we'll be able to go back to band as usual. I doubt everything will be as usual ever again, but we will hopefully reach close to it," Mobley said.