Kamala Harris: America's first HBCU graduate to snag the vice presidency
When Kamala Harris gave her victory speech on Nov. 7, she thanked President-elect Joe Biden for breaking one of the most substantial barriers that exist in America.
The 2020 general election was many college students' first time consciously following and voting for a presidential candidate. Labeled as one of the most unorthodox elections in U.S. history, its results were even further than the country's tradition, beginning with Vice President-elect Kamala Harris.
As a politician set to shatter several firsts including the first woman, first Black person and Indian American, the first member of the Alpha Kappa Alpha sorority and the first HBCU graduate, many can't help but claim victory in Harris' uniqueness. 
"For years and years and years, you've talked down on those that have graduated from HBCUs and now we have a more than a qualified woman as our vice president that comes from an HBCU," said Raniya Holmes, a junior social work major.
Harris attended majority-white schools, from elementary school in California to high school in Canada. So when it was time to decide on a college, she chose Howard University, an HBCU located in a predominantly Black neighborhood in Washington D.C. It was there that she immersed herself in one of the most popular HBCU traditions—Greek life.
Harris graduated Howard in 1986 as a member of the Alpha Kappa Alpha sorority, the oldest of the historically Black sororities. Now she stands as the first member of the National Pan-Hellenic Council, an organization composed of historically African American Greek-lettered fraternities and sororities, to be elected vice president of the United States.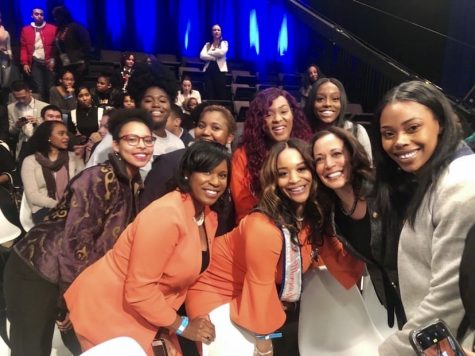 "Women who fought and sacrificed so much for equality and liberty and justice for all, including the Black women who are often—too often—overlooked but so often prove they're the backbone of our democracy…tonight I reflect on thier struggle, thier determination and the strength of thier vision to see what can be unburdened by what has been," Harris said during her first speech as the vice president-elect on the night of Nov. 7.
Political science major India Jones, the current HBCU for Life chair for the MSU Alpha Delta chapter of Alpha Kappa Alpha, said she was not only inspired to become a politician like Harris but excited that her sorority sister will influence the White House.  
"Vice President-elect Kamala Harris being the first woman, the first Black, the first member of the Divine Nine, the first HBCU graduate, it just meant a lot because I fall into those qualifications," she said. "So it proves I can reach one of the highest positions in the country if I wanted to."
Harris' triumph not only reassured several Morgan students, who attend the largest HBCU in Maryland, but it also motivated its professors, including history professor Felica Thomas. She said Harris' victory is an inspiration for HBCU students to reach their goals.
"Attending an HBCU instills pride in our students," Thomas said. "But seeing Kamala Harris ascend to the heights that she has really ascended to reinforces the message that we try to communicate, which is that you can achieve, shoot for the moon—even if you miss it, you land among the stars."
But while Harris will go down in history as the vice president to break the glass ceiling, English professor Adele Newson-Horst, the coordinator of women's and gender studies, said she wants to remind people that Harris is more than the person of firsts. She said Harris represents the furthering of Black women in public spaces. 
"Anytime a Black woman does something like this, achieve a milestone, I think it is cause for a celebration, but I don't think it's about being the first HBCU graduate or the first Black woman vice president-elect or the first Asian woman or the first AKA," Newson-Horst said.