Morgan students urge community to vote as youth participation skyrockets
This fall the Hurt Gymnasium on campus serves as an in-person voting site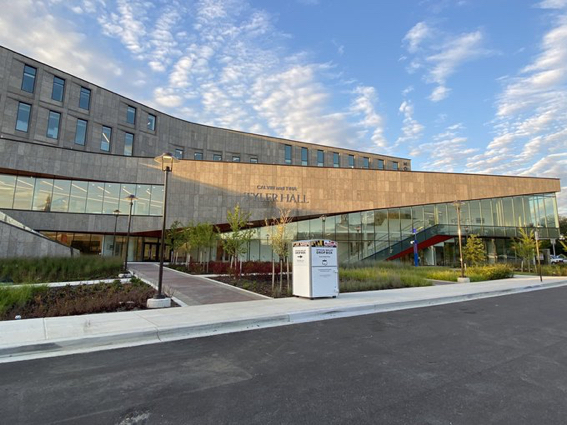 With arguably one of the most important presidential elections in American history looming, Morgan State students are urging the community to cast their ballots.
One of those students is junior computer science major Jada Grant.
Grant, who is the president of Morgan State's chapter of The National Council of Negro Women (NCNW), has been posting messages on her social media accounts encouraging her peers to vote this fall.
NCNW has teamed up with The 99 Problems, a grassroots campaign that encourages American citizens to exercise their right to vote.
More people between ages 18-24 have actively participated in this year's election compared to 2018, according to polls from the Center for Information & Research on Civic Learning and Engagement. The polls also show that 79 percent of youth, between ages 18-29, believe that the outcomes of the 2020 election will have a significant impact on their communities.
For Grant, being part of a marginalized group has strengthened her eagerness to vote.
"As a young black person that attends an HBCU, there has been certain occurrences that have happened to the communities I represent that could be readjusted, replaced, or altered through laws, bills and representatives in local, state and national governments that actually represent us," she said. "In order to have a say, in order to make a change, it starts with voting."
Many Morgan students agree with Grant, including freshman Adrian Phillips Jr. who considers voting a responsibility.
"People fought and died, understanding the importance of exercising the right to vote, and it's in our power now to be engaged in who and how our government runs," Phillips Jr. said. "The changes we demand won't happen without our participation."
Similar to how President Donald Trump and former Vice President Joe Biden are currently running for an election, Phillips Jr. recently ran for an election, albeit on a much lower scale.
Phillips Jr. was recently elected as freshman class president. The newly elected class president is now tasked with making decisions that directly impact Morgan's student body.
Those who listen to Grant and Phillip Jr.'s advice and are registered to vote in Northeast Baltimore can cast their ballots at Morgan's Hurt Gymnasium. The Baltimore City Board of Elections (BOE) has designated the gym as an early voting and election day voting center, according to a university announcement.
"Given the extreme importance of the upcoming election and what the outcome may mean to our community, our city, I can't think of a more appropriate place to serve as a voting site," said University President David Wilson.
Voters will be able to go to Hurt Gymnasium to cast their votes from Monday, Oct. 26 through Tuesday, Nov. 3. On each of those days, voting will be open from 7 a.m. to 8 p.m.
Early voting begins Oct. 26 and concludes Nov. 2.
The BOE will provide election judges and staff to conduct all election activities inside the gymnasium. Election judges are required to wear personal protective equipment and voters will be required to wear masks and practice social distancing while inside.
In addition to serving as an early and election day voting site, Morgan's campus will serve as a ballot drop box location. The drop box is located along the driveway in front of the new Calvin and Tina Tyler Hall student services building at the intersection of Cold Spring Lane and Hillen Road.
While students are proud of Morgan's role, some argue that more steps should be taken to encourage voter turnout.
"Becoming a polling station and encouraging the community to vote is a major move," said George Makunde, a senior computer science major. "The next step is to make election days holidays so everyone can have an easier time voting."