'We lost one of Morgan's most precious remnants of heritage': Faculty and staff mourn trailblazer and alumna
Clara I. Adams, Morgan State University's second-longest serving faculty member, died on Aug. 5 due to complications with chronic kidney failure, according to Adams' family. She was 87 years old.
The public viewing for the former vice president of academic affairs will be held in the Murphy Fine Arts Center at 9 a.m., followed by the funeral service at 10 a.m. 
Remembered by faculty and colleagues as a compassionate and virtuous woman with the utmost passion for education, Adams left behind a legacy of integrity and scholarship.
The university's honors college is named after her. 
In a eulogy written by the family, Adams' nephew Steven Adams wrote that his aunt "loved Morgan like a mother loves her child."
"She had that sense of higher calling to the work that she did, so 60 years was a blink of an eye for her," Steven Adams said. "She would have happily [worked] another 60 years if her health would've permitted."
Adams' journey as an alumna turned administrator began in 1968 after she joined Morgan's faculty as an associate professor of chemistry.
"She was a mother to many of us, and knew more about the history of Morgan than anyone I know," University President David Wilson said in a statement. "I relied on her wisdom, her devotion to Morgan, and her judgement."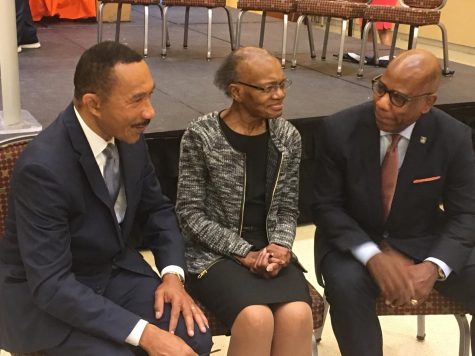 Faculty and colleagues who knew Adams, largely attribute Morgan's academic expansion and success to her long-standing service, from becoming the chairperson of the chemistry department to being appointed special assistant to the president in 2004.
"Dr. Clara I. Adams, a 1954 alumna of Morgan, gave shape and definition to an era in Morgan's history that many refer to as 'The Morgan Renaissance,'" said Burney Hollis, dean emeritus of the College of Liberal Arts in a tribute. 
Adams, who served five university presidents over the course of six decades "was truly one of the most significant educators in Morgan's history," said Hollis, who is organizing her campus memorial service Friday.
Adams a collector of information. Assistant University Archivist Edwin Johnson called her the "walking and talking" history of Morgan. 
"She could recall and rattle off dates and events like a search engine," Johnson said, noting that Adams worked for what was once Morgan State College. "Excellence was blue and orange and coursed through her veins. When she left us, we lost one of Morgan's most precious remnants of heritage."
Adams' childhood was rooted in academic success and her leadership as an administrator was indicative of this upbringing. She took pride in being the first family in her neighborhood to own a set of encyclopedias. 
She attended Dunbar High School in Baltimore, where she was inspired to teach chemistry. She later graduated from Morgan State College with a bachelor's degree in chemistry, and returned to her alma mater as a professor.
According to her colleagues, Adams was a friend to everyone and was driven by her love for Morgan. Under her leadership, the university added 22 new undergraduate and graduate degree programs, and received national accreditation for each academic program.
Joan Robinson, former provost of academic affairs and a close friend of Adams, described her as "steadfast" in helping to push Morgan College into becoming Morgan State University. "She is what you refer to as a 'true renaissance woman,'" she said. 
Robinson, now retired, said she could not have accepted the position as provost without Adams' approval. 
"Dr. Adams was my confidant, a true friend, my mentor and my sister," Robinson wrote in a personal tribute. "You would call her an unsung hero because she has done so much in her lifetime." 
Former faculty members like Patricia Welch, the dean of education and urban studies, said Adams "is an example of what greatness looks like," and like many other faculty and staff, is unsure if there will ever be another like her. 
"She was a driving force for faculty, a role model for students, a template for higher education leadership, a gracious lady and a true friend. She cannot be duplicated, just sincerely missed," Welch said.