Surge in male piercing population sparks need for skilled piercers
Some men on campus are inclined to get an experimental piercing in search of a look that's 'unique'
Freshman education major Dejuan "Se7en" Clark sat in the car with his mother on his way to get his second nose piercing, this time, he wanted his septum pierced. Clark, known by his friends as "Se7en," was inspired to get his first nose piercing—on the right side of his nose—after a student in his class called the act "gay."
"This boy in my class told me it was 'gay' to do it and I was like 'cute, bet,'" Se7en said. "I just wanted to."
Statistically, women are generally more likely to get piercings. But in 2017, 15 percent of men in the U.S. opted for nose piercings. However, nipple piercings were the most popular that year amongst men, leading with 18 percent, according to bodyjewelry.com.
Piercing experts say that most piercing trends vary depending on the region, but reduced restriction in sports, the corporate world and the impact of social media have contributed to their growing popularity.
"These things ebb and flow and do change frequently," said Jef Saunders, a Michigan-based piercer who is also the public relations coordinator for the Association of Professional Piercers.
Saunders added that he has noticed a spike in people seeking safer piercing options. 600 new members have joined the association over the past six years. And as the industry grows, so does the demand for skilled piercers.
One of these piercers is Brian Keith Thompson, a Los Angeles-based artist and owner of Body Electric, who has pierced celebrities like Beyoncé and Scarlett Johansson. Thompson received tremendous popularity last year after he was featured on Refinery29's YouTube channel showcasing his constellation piercing, a customized cartilage piercing that mirrors the patterns of the stars.
As a kid, Thompson always enjoyed looking up at the stars and years later, not much has changed.
"I have this really cool telescope that's on my deck here in the Hollywood Hills that I can actually pick out Jupiter and see the gas lines," he said.
He often splits his time between California and New York, where he has the highest clientele, and although he dons multiple visible piercings today, he was afraid to get his ears pierced in his 20's.
"I was told that I wasn't supposed to look like that, and I finally broke out of that thinking," Thompson said. He is proud when male clients enter his shop and often encourages them to take the risk and venture towards a more unique piercing like a cartilage or even a tragus—one of his recent favorites.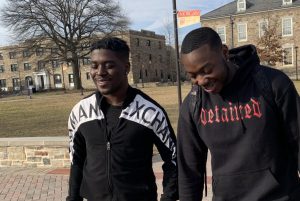 Kayode Akinyodu, a freshman screenwriting and animation major, remembered going back and forth with his mother, a Nigerian native, for weeks before he finally decided—against her wishes—to get his nose pierced.
"She told me that she'd rather for me to get a tattoo than a nose piercing, but I got a nose piercing instead," Akinyodu said. "She was only mad for a couple of days."
Shortly after that, he noticed a student in his high school with his cartilage pierced and marveled at what he thought was a "unique" style. He was inspired to get one himself.
"It's actually cool because a lot of guys aren't doing it and that is the definition of cool, whatever is not mainstream," Thompson said.
For the piercer, this kind of trend follows suit with what he's been seeing in his shop in recent months. "I'm seeing a lot more than just the typical left earlobe piercing [for guys], I think that ship has sailed," he said.
Due to increased popularity from both men and women, popular piercing shops like Infinite Body Piercing have started to expand. The Philadelphia-based business will open a new location in Baltimore in the Spring, according to its website.
The shop has been one of the first to release its piercing statistics from 2016 and 2017 and according to its website, nostril piercings were the most popular for both years. In 2017, they pierced over 1,600 noses and, of those clients, a little over 10 percent of them were men.
Thompson believes that number is only going to grow.
"It's not a feminine thing at all, it's really not," he said. "It can be whatever you want it to be."