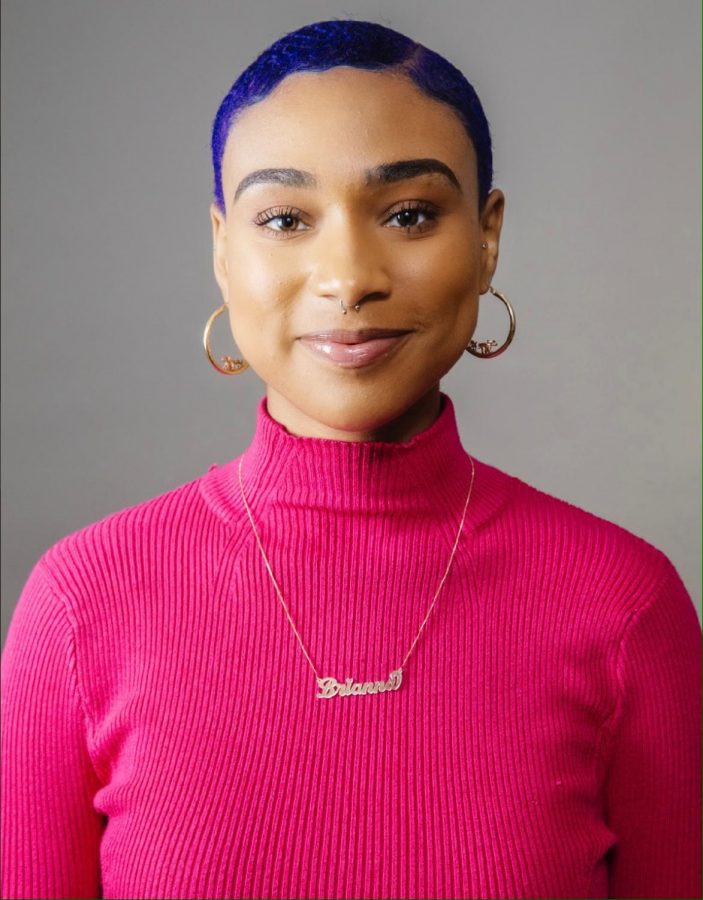 Brianna Taylor is a senior multimedia journalism student at Morgan State University and the managing editor for The MSU Spokesman, Morgan's digital news publication. In the summer of 2019, she interned at the Columbian Missourian, a daily news publication in Missouri and completed a three-month fellowship at The University of Missouri's Graduate School for Journalism.
Prior to The Spokesman, Brianna found her love for storytelling within sociology. Intrigued by human interactions due to one's environment, she became interested in stories that were underrepresented in the media.
Most recently, Brianna completed a year-long fellowship at the Wall Street Journal, where she was selected to be part of the inaugural mentorship program affiliated by Morgan State University.
Brianna Taylor, Managing Editor
Jan 15, 2021

'You have to speak out for injustice': Morgan State President David Wilson's take on American Democracy

(Story)

Nov 07, 2020

Joe Biden defeats incumbent Donald Trump, administration set to make several firsts

(Story)

Nov 04, 2020

That's it: this is how Baltimore voted in the 2020 general election

(Story)

Oct 12, 2020

The MSUSpokesman 2020 Voter Registration Guide

(Story)

Oct 08, 2020

Rapper Megan Thee Stallion calls for the protection of Black women during SNL performance

(Story)

May 01, 2020

Michigan native fears fall semester online means 1 year without football

(Story)

Apr 28, 2020

University grants students 72-hour extension for pass/fail option

(Story)

Apr 23, 2020

Local coffee shop shuts walk-up window to protect workers, sees drop in sales

(Story)

Apr 12, 2020

Spokesman Staff Quarantine Cookbook

(Story)

Mar 27, 2020

A letter to my generation: I'm disappointed

(Story)

Mar 10, 2020

LIVE UPDATE: Morgan State cancels class this week, motion to move online after spring break

(Story)

Mar 06, 2020

Morgan State to cease international travel in response to coronavirus

(Story)

Mar 03, 2020

Review: Theatre Morgan reinvigorates August Wilson's 'The Piano Lesson'

(Story)

Feb 26, 2020

Animal vs. man-made, mimic meat explained

(Story)

Feb 10, 2020

A 'Back and Forth' Conversation with Joy Postell

(Story)

Jan 28, 2020

Get ready with MSUSpokesman editors | Q&A

(Story)

Dec 05, 2019

Students left high and dry during campus pool semester-long closure

(Story)

Nov 29, 2019

Morgan band steals NYC, Macy's parade with historic performance

(Story)

Oct 23, 2019

Morgan alumni return to campus to pay respects to U.S. Rep. Elijah Cummings

(Story)

Oct 17, 2019

Morgan Board of Regents member, Rep. Elijah Cummings dies at 68

(Story)

Oct 10, 2019

Inside Morgan State's Homecoming lineup—luck or strategy?

(Story)

Oct 08, 2019

Mister and Miss Morgan State: more than a crown

(Story)

Sep 23, 2019

Morgan State University's football stadium renovations complete less than a month before Morgan's first home football game

(Story)

Sep 19, 2019

Overflowing trash by off campus housing complex attracts 'aggressive' family of raccoons

(Media)

Sep 16, 2019

While Morgan students are without textbooks, neighboring institutions are 'doing just fine'

(Story/Media)

Sep 11, 2019

A 9/11 tribute: Morgan State will never forget 

(Story)

Aug 26, 2019

Popeyes vs Chick-fil-A—Spokesman staff weigh in

(Story)

Aug 19, 2019

A primer to what you may have missed at Morgan over the summer

(Story)

Jul 11, 2019

Morgan student found shot dead near Morgan View

(Story)

May 02, 2019

Morgan alum, Catherine Pugh resigns as Mayor of Baltimore City

(Story)

Apr 05, 2019

A Morgan alum's stride for inclusivity abroad

(Story)

Mar 17, 2019

Morgan State's water filter concern

(Story)

Feb 22, 2019

Harper Tubman's stride to open its kitchen for all residents

(Story)

Feb 08, 2019

Morgan State hosts a dialogue on the Latino Muslim community 

(Story)

Dec 16, 2018

BGHC partners with Washington Capitals for diversity within hockey

(Story)

Nov 06, 2018

Common Cause pushes to pass election day registration

(Story)

Nov 06, 2018

Towson Library polling site attracts disabled voters and many more

(Story)

Nov 02, 2018

Morgan holds a groundbreaking ceremony for Northwood Plaza

(Story)

Oct 23, 2018

Black Girls Vote establish its first collegiate chapter at Morgan State University

(Story)

Oct 12, 2018

Morgan State Architecture undergrad snags leadership award

(Story)

Oct 04, 2018

Recent Morgan graduate will speak at SGJC's Alumni Brunch

(Story)

Sep 12, 2018

SGA reveals winners of freshman elections

(Story)