Councilman brings political awareness to campus
A Baltimore City councilman visited Morgan State University Tuesday evening to hold a conversation with students about how policy affects their community.  
 Councilman Ryan Dorsey informed and engaged students about the various positions in Baltimore City's local government, while also centering his conversation on the role of these governmental positions. 
 At the forefront of Dorsey's discussion, he introduced his background prior to becoming a councilman in Baltimore City. He has been a lifelong resident of the city and he grew up in Belair-Edison and Mayfield.  
Although, Dorsey has no previous experience in politics, he had claimed to have recognized issues within the city that he believed required reform. 
"I had no experience, I was an average person in Baltimore City analyzing things and realizing things can be better, and I could be the one to do this," said Dorsey.  
As a councilman, Dorsey explained that his main area of focus in Baltimore City was to seek funding to service the city's roads, while also aiming to improve public transportation within urban areas of the city. 
One portion of the event gave students a chance to ask questions and express their concerns about their local government. Multiple students conveyed concern about where money is being distributed by governmental officials within Baltimore City.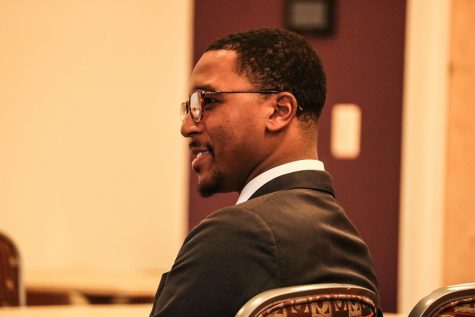 Dorsey explicated that though councilman propose various bills that aim to provide funding in areas of the city where support is needed, the Mayor of the city has a dominating decision on whether a bill gets passed. 
Towards the closing of the event, the founder and president of Black Girls Vote, Miasya Parker, encouraged Morgan students to vote amidst the 2018 midterm elections. 
"Everyone needs to go out and vote, it's very important. Everyone has an opportunity to make a difference in their government," said Parker. 
Remuel Pridgen, senior and political science major, expressed his impressions of what he learned at the conclusion of the event. 
"My main taking away is voting is important because even though councilman enact certain bills, they might not always get passed through. It also lets me know the mayor has more power than initially, I thought, so it's very important [to] participate in every election," said Pridgen. 
At the conclusion of the councilman's conversation, he explained how students could apply the information they had obtained at the event within their lives. 
"The application you can take away from this information is that, you can help people by dedicating time," said Dorsey. "There are millions of ways you can bring change, and every vote starts with someone being heard and something being communicated."