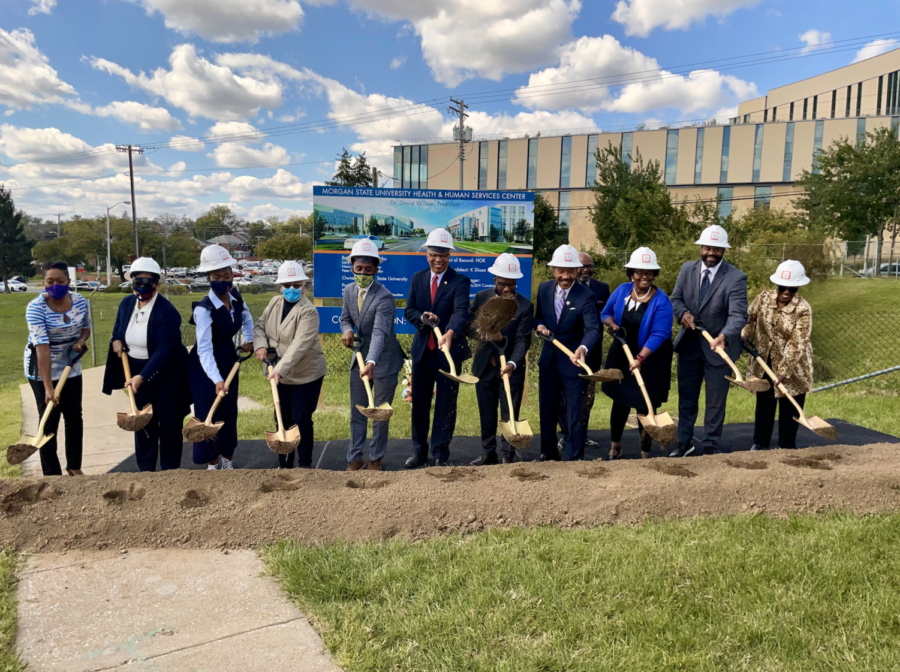 Llewellyn Means
On Thursday, Morgan State University held a groundbreaking ceremony to celebrate the construction of the Health and Human Services building.
This $171 million building will be located where demolished Turner Armory previously stood and will house the University Counseling Center and the Center for Urban Health and Equity.
The building's construction, led by the Baltimore-based construction company Barton Malow, is projected to be finished in 2024.
President David Wilson said that the new building and growth Morgan has recently experienced will help push it to its highest standards of excellence.
"We are here to celebrate the continued growth at this institution; growth we have come to affectionately recognize as Morgan momentum," said President Wilson.
Mayor Brandon Scott said that he believes the new Health and Human Services building is not only an investment in the university's medical students but can also bring economic growth to its surrounding community.
"This new Health and Human Services building will be an incredible asset for Morgan students and our city," said Scott. "[It] will prepare our students for in-demand 21st-century jobs in healthcare and technology, bolstering the economic potential of our young people and addressing the immediate needs in our city and our country."
Nick Mosby, Baltimore councilman, said that the Health and Human Services building will help heal the residual impacts COVID-19 left on the black community.
"The $171 million investment is going to be an investment for the future of black Baltimoreans but more importantly the future of all African Americans in this country," said Mosby.
"[We] understand it's institutions like Morgan State that have that cultural connectivity, to break down the residual effects of policies that were shaped through bigotry, white prioritization, and systematic oppression. That is exactly what this building is here to do."